You may have seen tons of funny reversed videos on YouTube, Instagram, or TikTok. Wondering how to apply reverse effects on videos? Below are the four video reversers to help you reverse videos with ease.
Reverse video using MiniTool Movie Maker

Reverse video using FileConverto

Reverse video using Reverse Movie FX

Reverse video using Reverse Vid
1.Reverse Video Using MiniTool MovieMaker
MiniTool MovieMaker is one of the best video reversers for beginners. It allows you to play a video backward and edit the video such as splitting, trimming, cutting, rotating, flipping, controlling video speed, adding text, etc.
Besides that, this video reverse tool offers a variety of transitions, filters, motion effects, text templates, and movie templates to enhance your video. MiniTool MovieMaker is free to use and won't watermark your exported videos, so you can feel free to use it.
Here's how to reverse a video with MiniTool MovieMaker.
Step 1. Go to the MiniTool MovieMaker website and download & install the software on your computer.
Step 2.Launch it and close the pop-up window to access the main user interface.
Step 3. Tap on Import Media Files and import the video that you want to reverse.Drag and drop the video to the timeline.
Step 4.Next, click the speed controller icon and choose Reverse from the below options.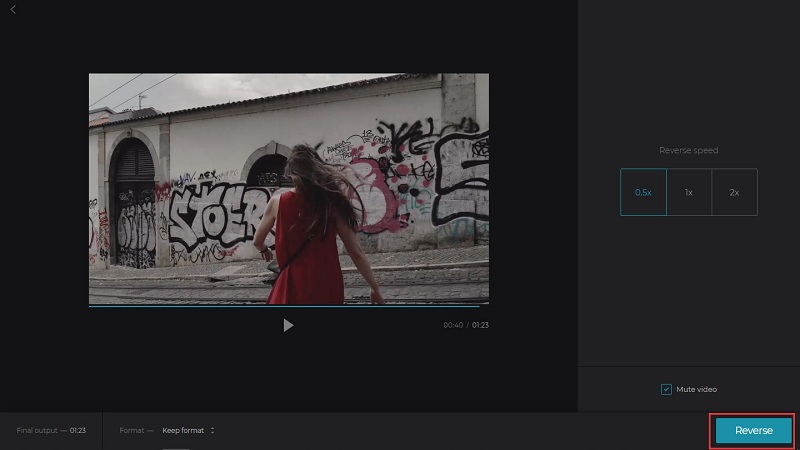 Step 5. Click the Play button and check if the video is reversed.
Step 6.If there is nothing wrong, go to Export and adjust the output settings like give the video a name, change the video format, choose a new save path, and change the video resolution.
Step 7. In the end, press the Export button to export the reversed video.
2. Reverse Video Using FileConverto
If you'd like to reverse video online, try this online video reverser – FileConverto. With it, you don't have to install any software on your device. This tool is packed with other features like loop video, merge MP3 files, brighten video, video trimmer, video joiner, and more.
Here's how to reverse a video online using FileConverto.
Step 1.Visit the FileConverto website.
Step 2.Click on Video Tools and select the Reverse / Rewind Video from the drop-down list.
Step 3.Choose Browse… and import the desired video from local. Then press the Submit Now button.
Note: The maximum file size is up to 500 MB.
Step 4. It will take a few minutes to reverse the video. After finishing the process, you can download the reversed video from the FileConverto website.
3. Reverse Video Using Reverse Movie FX
Reverse Movie FX is a video reverser app for both Android and iOS. It can reverse videos with zero quality loss. To reverse a video on Android, take the following steps.
Step 1.Get the Reverse Movie FX app from Google Play and install it on the phone.
Step 2. Open the app and tap on Start.
Step 3.Next, select the video that needs to be reversed from your phone.
Step 4. After loading the video, you can adjust the reverse settings like applying filters or adding music, and then click on Reverse Video.
Step 5.When the reversing process is over, you can play the video or share it with others.
4. Reverse Video Using Reverse Vid
This video reverser app is only available for iPhone and iPad. It allows you to reverse videos and change the playback speed. You can find this app in Apple Store.
Here's a guide on how to reverse a video on iOS,
Step 1.Download and install Reverse Vid.
Step 2. Launch the app and add the wanted video to Reverse Vid by clicking on Library.
Step 3. Change the rewind speed of the video and preview the video.
Step 4. After that, save the reversed video on the phone.
Conclusion
Here're 4 best video reverser tools to help you reverse videos. Hope you can find the video reverser that suits you best!