Technology has always brought significant changes to how we live, work and play, and education is no exception. School EdTech solutions are bringing changes to the classrooms helping teachers with digital tools and improving the students' learning. The edtech solutions help teachers create more engaging and interactive lessons using AI and get real-time benefits from tracking students' progress. Herein, we will explore how the best EdTech companies in India help improve student learning outcomes. It will ultimately depict the revolution in schools.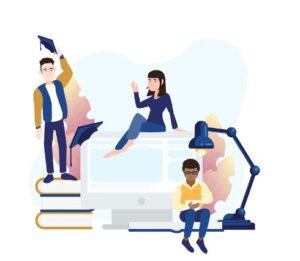 Promote Pedagogy And Improve Learning Outcomes
The use of software is a large part of educational technology or Edtech. The child's learning power remains limited when the software is not up-to-date. Today's educational software is based on the principles of pedagogy, and what does EdTech is helping you with is improving your child's learning experiences.
Technology As The Means Of Acknowledgement For In And Out Of The School Activities
Technology has created a collaboration between teachers and students. One great example can be COVID-19, when the schools were shut down for a period, and the students had to go online. Teachers could now communicate easily using virtual means of communication like Zoom.
Now, imagine yourself in an artificial arrangement of classroom… There you will probably have a slow-processed collaboration of technology.
But in the era of 2023, what the school EdTech solutions are bringing is a huge change with the introduction of technology –
Teachers are now allowed to use digital platforms during school hours and manage the groups of their respective classes.
When presenting anything in an animated view or audio or video, teachers can now greatly impact students' learning.
On the other hand, students are taking this technological issue out of their classes and class boundaries.
They can now create group meetings, video calls, communicate with the surroundings, and collaborate on platforms like Google Docs, etc.
Evaluation Of The Assignments Using Technology
With the use of the best EdTech companies in India, only students have got a great advantage. Indeed, it is helping them to improve their learning experiences. On the same side, how the teachers teach is further creating a foundation for students' ability to do online tests and further assessments. Earlier, when there were no school EdTech solutions, the teachers would have to manually learn the grading system and give each individual's test marks. Now, plenty of software is available for teachers that are further computer-based and help them mark and grade the correct answers.
Suppose there becomes a compulsory system of online assessment and online exams. In that case, the teacher will use the online system to grade the exam sheets, and the students will use digitalization to answer the questions without any stress for extra sheets. Furthermore, it will give benefits like –
Saving teacher's time
Reducing the waste of paper
Tracking the progress using digital platforms
Increase in learning and performance of the child due to gamification
Less Stress On Manpower And Comfortable Learning Experiences
With the use or introduction of the best EdTech companies in India, students are now learning the ease of their comfort zone. Digital learning is affecting the teachers and the student ent equally. If teachers are getting their time saved, then students are getting online and easy platforms with resources. Additionally, as a teacher or student, you can use that digital resource for your next academic year that will be saved in your drive. Thus, you have the freedom to explore at your own pace.
Conclusion
School EdTech solutions promote collaborations with technology, within or outside the schools. It is eradicating the need "to pass down the paper," which has never been easier for students to learn and for teachers to share better content. For example, the teachers can use Google for feedback on the completed work. It will further eliminate the hassle of collecting the heap of papers or workbooks in their hands. Ultimately, the teacher's stress is reduced, and the students learn new things at each phase.
Read More: Z-Library: A New Frontier for Book Lovers Everywhere