Fashion designing is the kind of education that helps you gain creativity and blend with the modern era of the fashion industry. Every generation hunts for new clothes, which always stay updated. Therefore, fashion design has a high demand.
Still, there lies the pros and cons of each educational field, and so is true for fashion design. The Fashion design course (like other courses) has major downfalls and advantages. Here, we will discuss the various challenges and opportunities of fashion design education in Mumbai.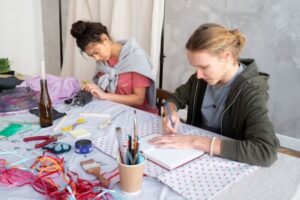 Opportunities For Fashion Design Education in Mumbai
Self Satisfaction
Mumbai is the fashion hub, and you may get the fashion design colleges in Mumbai. Also, fashion designers and personalities succeed when they improve with new trends and people use their particular accessories. That time marks the beginning of an absolute hit, and the designer comes up with the utmost satisfaction.
An Opportunity To Make Good Money
Whether it is about fashion design courses or others, every field allows you to earn phenomenal money if chosen or taken with the utmost attention. Also, fashion design creates a path for your professionalism. After attaining a degree in fashion design, you can work under well-established professionals. Subsequently, if things remain in your favour, or after doing the hard work, you may get a good chance to make a lot of money and fame in the industry.
National or International Exposure
Fashion designing helps you reach different networks, travel across different countries, meet the clients, understand the clients, deliver the possible outcomes and know about the perspectives or the mind of clients. You may have or may create an influence on the people. It creates a chance to learn about different fashion styles and the needs that change over time.
Meet Different Kinds of Individuals
Again, fashion design is the kind of field that helps you reach more and more people. Sometimes, when we adopt any profession, we need to remember to reach out to the outer world regarding the updated regulation of the field. Therefore, to maintain this gap, you may connect with different people, learn about their perspectives and create wealth equally or together.
Challenges of Fashion Design Education in Mumbai
Flexible Working Hours With No Fix Timings
Fashion design makes you work all day long. In short, you become the servant of your client who demands and asks you to complete the task. Thus, you get no extra charges for overtime, late night work or early morning work. It can be exhausting at some times. Still, you must acknowledge the opportunities offered by the fashion design courses in Mumbai.
Unstable Income
You can expect a small amount of money in any profession if you are a newbie. You will have to establish your firm or may collaborate with others. Also, finding jobs in fashion design can be difficult, but the same is true for any other profession. In short, you must work hard or showcase your skills to gain particular knowledge.
Criticisms
Even if you go to fashion design colleges in Mumbai, you will be criticized there. It is because the profession demands the same. You will have to meet different people asking you for custom requirements, and you will have to work accordingly. Even after having various positive outcomes, you will be distracted by various criticism of people whom you even don't know. It is the harsh side of every profession that you must look after or prepare for.
Staying Updated
The fashion design course is ever-expanding, and the trends may always come and go. Therefore, you need to stay tuned to the public demands. Simultaneously, you must create a comfort zone to create unique designs.
Conclusion
The fashion industry is vast. Every state, place or even district has its impact on each other, moulding the tradition of fashion. Thus, you may get lots of things in return– be it benefits like money, fame, name or change in lifestyle or criticism or lack of exposure. So, if you choose fashion design colleges in Mumbai or a career in fashion design course, you can make a wise decision accordingly. You will have to prepare your mind considering the field's difficulties or success.
Read More: Fashion Designing Industry: Challenges and Opportunities